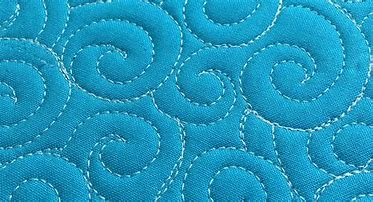 Come and learn free motion quilting on your own sewing machine! In each monthly class, you'll learn 3-4 free motion designs. Attend as many classes as desired. Finished blocks created can be made strictly for practicing free motion quilting designs OR you can create a unique appliqued quilt, wall hanging or table runner, depending on the size of the project you wish to create.


| | |
| --- | --- |
| After several blocks are completed, a finishing class will be offered. The finishing class will provide instructions for slashing & reassembling blocks (optional) and for joining blocks using a quilted sashing technique. | |
Free Motion Quilting Club Supply List
Bring to each class:
Sewing machine, free motion quilting foot, and basic sewing supplies, basting pins, scissors, etc.
Free Motion Quilting WorkBook
by Angela Walters
Contrasting color-coordinated cotton threads so your quilting stands out against background and optional applique fabrics.
Machingers Quilting Gloves
or Betty Bands highly recommended
Fresh 80/12 top stitch or quilting needle
Several pre-wound bobbins
Precuts:
(4) 9" x 9" fabric squares for background
(4) 9" x 9" fabric squares for backing
(4) 9" x 9" cotton, low-loft batting square
Important Notes for Choosing Your Fabrics:
Background Fabrics may be 1 fabric or an assortment of similar fabrics that are light or medium in value and are quiet & muted with a smaller scale print.
Backing Fabrics may be a variety that coordinate with the background fabrics, or choose just one fabric, or make it scrappy to use up your stash.
For those interested in including a simple contrasting 5"x5" centered appliqued shape (heart, circle, leaf, etc.) on each background block, arrive to class with three sandwich blocks with appliqued shape already satin-stitched through all 3 layers, so you'll be ready for free motion quilting in class. We recommend using fusible Lite Steam-A-Seam 2 web. 1 yard will do 12 applique shapes.
The optional Applique Fabrics need to contrast with the background fabric(s) and can be an assortment of fabrics in one color family, or a theme, or be of similar value from multiple color families. Example: Applique a medium-dark to dark heart shape on a light background.
Before arriving to class, please make certain your sewing machine is clean, in working order, and thread tension is checked. Bring your sewing machine manual. Arrive to class 10 - 15 minutes early to set up & start on time.
| | |
| --- | --- |
| Skill Level: | Beginner |
| Skill Details: | |
| Instructor: | Kathy Atwater |